Celebrating 30 Years of Pirates, Ghosts & Rock 'n Roll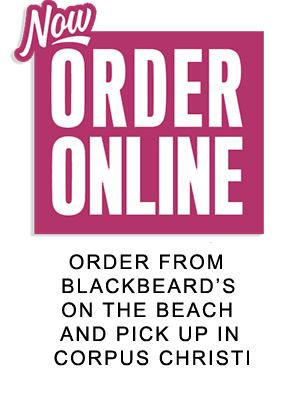 Blackbeard's on the Beach, a destination since 1991, offers a wide-ranging menu of seafood, steaks and comfort food + live music every night. Whether you're looking for Baja Tacos (one of our most popular dishes), seared tuna (which won top prize at a recent Texas State Aquarium cookoff), a juicy steak or burger, or loaded nachos, we've got you covered.
We take our drinks and margaritas seriously -- and recently added some top-notch bourbons for dedicated bourbon drinkers. If you're in the mood, sit at the bar and check out our crazy collection of stuff - from piratey to rock 'n roll. If you're at the bar when we're getting ready to close, watch the bartender pour a drink to leave at the bar for our resident ghost - caught on camera. More on our mischievous ghost at the link above.
Blackbeard's is housed in the bright purple building "just across the bridge" and enjoys the distinction of being one of the oldest structures still standing on North Beach, having withstood its fair share of hurricanes and mayhem since the 1950s.
The late owner, Steve Bonillas, was a collector of all things, as reflected on the walls, ceilings and shelves at Blackbeard's. He especially loved music, particularly rock & roll, and began collecting memorabilia before he died in 2012. Some have dubbed Blackbeard's a mini rock 'n roll museum, so feel free to check out our collection while we're cooking your meal.
A favorite spot for those who seek unusual, one-of-a-kind restaurants, Blackbeard's enjoys a following among locals and tourists alike. Over our 25 years, we've watched generations of families return, with kids growing up and returning with their own children so they, too, can experience this eclectic, fun-filled restaurant while partaking in its excellent food. And speaking of excellent food, Blackbeard's won the 2016 North Beach Seafood Wars at the Texas State Aquarium. Our seared tuna wowed the crowd.
Birthdays, Special Events & Catering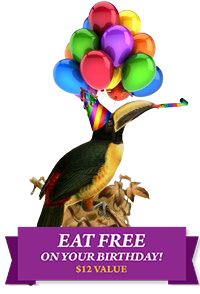 EAT FREE ON YOUR BIRTHDAY!
That's right. You can eat free at either Blackbeard's location on your birthday. $12 value. No strings attached.
Thinking about a place to celebrate your birthday? Are you planning an upcoming birthday party? Let us help you plan your next event. Call us at 361-884-1030 to book your birthday party!
Gift Certificates - Get one for a friend!
WE HAVE GIFT CERTIFICATES
Our gift certificates are available in $20, $30, $50 and $100 values. They make an excellent gift for any occasion. Get one for a friend. Grab one for yourself.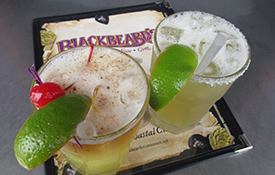 Daily Drink Specials
Stop by to enjoy one of our daily drink specials! Follow us on our
Facebook
page for our daily drink specials.